If you suffer from nasty allergies, how far would you go to treat your problem?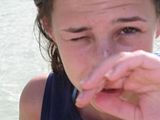 It's a fact that airborne particles, pollen, pet dander as well as dust are really a pain in the nose especially for people with chronic hay fever. If I was one of them, I think I would go the extra mile (just like the way I search for the best auto insurance rates) and keep looking for the best way to aggressively treat my condition.Yes, there is the usual medication to temporarily ease the clogged, itchy noses but there's a promise of relief from getting acupuncture twice a week.
That said, would I seriously consider acupuncture if it was the only best way to put my allergies away? I don't know about that because I can't seem to imagine subjecting my nose to needles. How about you?